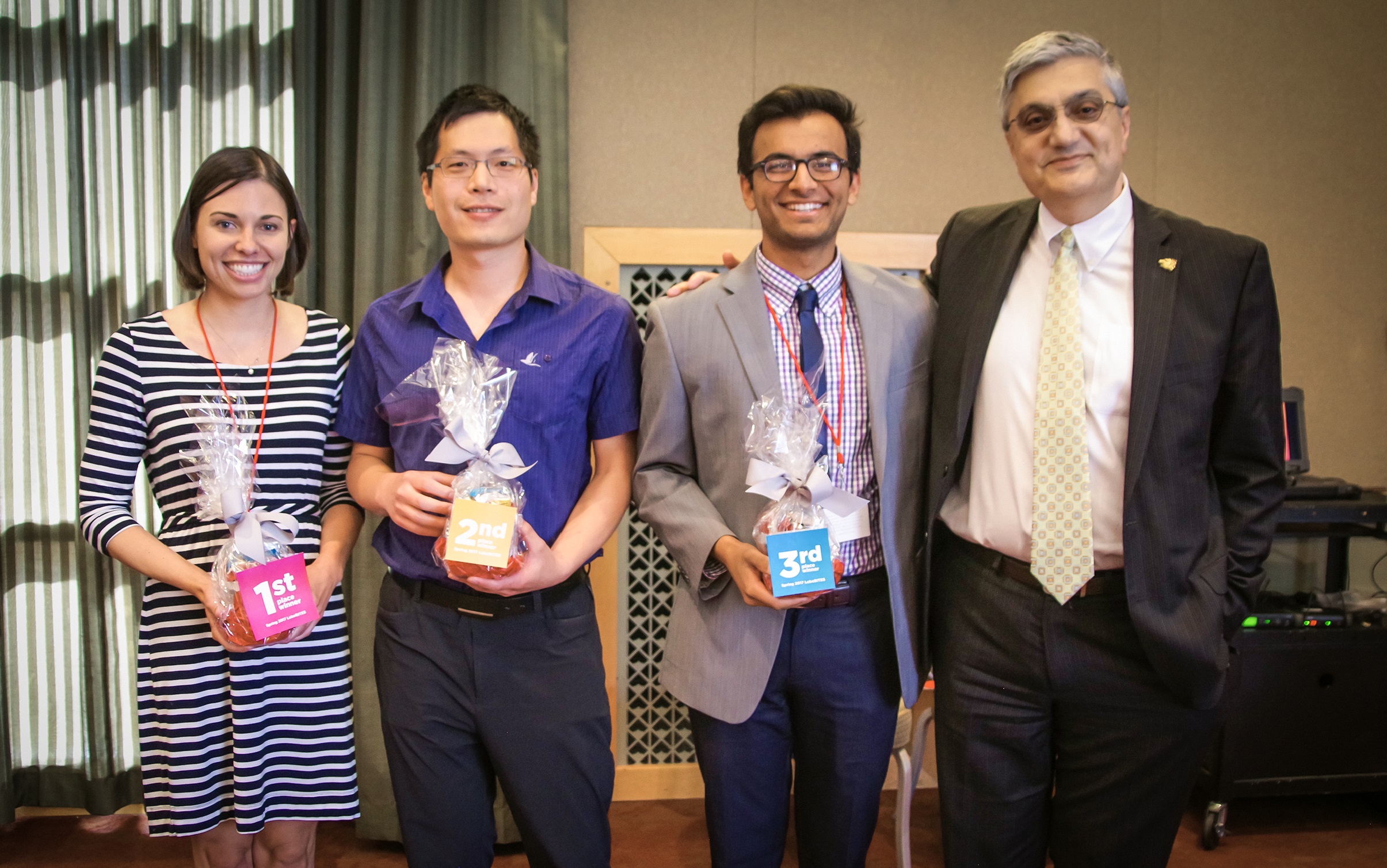 First Place:                                                                                               
Jocelyn Colella, Doctoral student in Biology                                   
"Tracking the Ice Age Legacy in Modern DNA"   
Second Place:     
 Hao-Tien (Lewis) Chiang, Doctoral student in Computer Science
  "Autonomous Robot Navigation"
Third Place:
  Anand Macherla, undergraduate student in Economics
  "Conflict Minerals and the Global Narrative"
Access names and abstracts for LoboBITES presentations by exploring the links below. 
More About LoboBITES
LoboBITES are three minute presentations on a thesis, dissertation, or other substantial research project. To be successful, students must present their research in a compelling and easily digestible way, using language and terms appropriate for a general, non-academic audience. Presentations will be judged by a panel consisting of UNM and Albuquerque community members and top contestants can win up to $1000! Click here for a list of resources to help presenters prepare for the big day.
Rules
Presentations must be made in 3 minutes or less. Two points will be deducted from total score for every five seconds a student goes over the time limit.
Students may include one static image (such as a photograph or PowerPoint slide) for their presentation. No PowerPoint, Prezi, or other multi-slide presentations are allowed.
A prop or other visual aid is allowed, but may only serve as a supplement to the larger presentation, not the focus.
The primary mode of communication must be the spoken word.
Please dress professionally (i.e. business or business casual).
Decisions of judges are final and binding.
Presenters must be students enrolled in an undergraduate or graduate program (master's or doctorate) at the University of New Mexico.
Previous SKC180 winners may not participate.
Participants must present on a thesis, dissertation, or other substantial research project.
Judges and audience members are not allowed to ask questions following presentations (but may approach contestants after the winners have been announced if they're interested in learning more about their projects).
Judging Criteria
LoboBITES presentations will be judged by a panel comprised of members from the UNM and Albuquerque communities. Presentations will be evaluated using a 20-point rubric, based on the following criteria:
Significance: Presenters clearly explain the premise of their research and explain its significance to an audience with varied backgrounds. (5 points)
Clarity: Presentation is logically organized, avoids jargon, and clearly highlights key ideas and conclusions. (5 points)
Delivery: Presenters exhibit vocal variation, energy, confident demeanor, physical posture, and appropriate gestures. (5 points)
Engagement: Presentation promotes audience comprehension and engagement. (5 points)


Schedule & Procedures
Three students from each preliminary round will advance to the final round.

All competition rounds will take place on April 6, 2017 between 10:00 am-5:00 pm in Student Union Ballroom C. Detailed schedule, including speaker line-up, coming soon!
Prizes
First Place: $1000 scholarship
Second Place: $500 scholarship
Third Place: $250 scholarship