Student Spotlights 2020
MARK LASOTA
Sport Administration
Mark Lasota
Mark Lasota understands the importance of mentorship. As a first-generation college student who graduated in Spring 2020 with a PhD in Sport Administration, he lacked the guidance of mentors growing up and "learned the hard way how important it is to have mentors." During the past twelve years he has served as an educator and a mentor and has carried that passion for mentorship to his research.
His dissertation, entitled "The Role of Mentorship in Achieving NBA Success: Narratives Told by Nine Naismith Memorial Basketball Hall of Fame Inductees," examines mentorship's impact on the foundation and maintenance of a handful of NBA basketball careers. "Each person's journey has a unique set of circumstances," Mark explains, "and this study attempted to better understand how these former professional athletes overcame various life challenges, with the help of mentorship, to accomplish career success." As part of his project, he had the opportunity to interview a number of basketball legends, an experience he describes as his "dream study." Mark hopes his dissertation will help society understand the importance of mentorship for people from all walks of life, not just professional athletes.
During his time at UNM, Mark cites teaching lecture and activity courses as his best experience. "I am passionate about teaching and love working with my students," he explains. "Therefore, teaching does not feel like a job to me." Although graduate school hasn't always been easy—Mark describes his four-year journey as "arduous"—he enjoyed the challenge and worked to make the most of the opportunity. And it looks like his hard work has paid off; he has accepted a faculty position in Fall 2020. Congratulations Mark!
TUCKER COLVIN
Geography and Environmental Studies
Tucker Colvin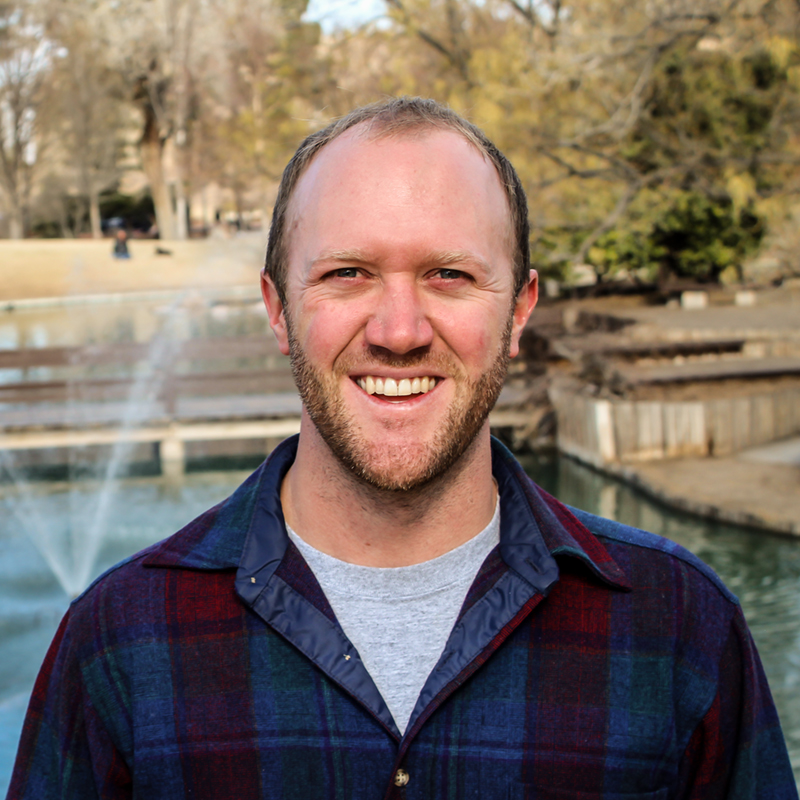 Tucker Colvin, a master's student in Geography and Environmental Studies, understands the importance of clean water. "I believe that having access to clean drinking water is a fundamental human right," he says. "Due to many institutional and structural barriers, many communities do not have adequate access to clean drinking water. If people do not have access to basic needs like clean water, then they are less able to meet any other individual or societal goals."
Tucker's research doesn't stray from this belief. In his work, he analyzes how drinking water systems are governed by institutions throughout rural New Mexico. By interviewing managers of drinking water systems, he discovered "that water systems face numerous issues including deteriorating infrastructure, limited funding, overly burdensome regulation, and perhaps most importantly, not having enough engaged people to manage their water systems." Additionally, Tucker explains, "The state is also promoting regionalization as a blanket policy to promote sustainability of water systems. This research finds that this can be a useful tool in some cases, but for many communities it is perceived as taking away local control of a vital community resource and giving responsibility to a distant entity. This process can resurface historical political tensions and interactions between communities and government agencies. Many communities are in fact already organically and informally cooperating and sharing resources with their neighboring communities. Some policies and institutional structures created by the state seem to be innocuous and were likely created with good intent, but they are sometimes reinforcing power structures and keeping underserved communities marginalized." He hopes he can share his research findings with state officials, legislators, and non-governmental organizations, as these are the groups who have power over water systems. "I hope this research influences changes to how drinking water is managed across New Mexico in general," he says, "and hopefully it will contribute to making new water institutions that are more just and able to help communities meet their goals."
Tucker's interest in this topic stemmed from his work as a drinking water treatment plant operator in Montana, an opportunity which sparked his fascination with the ways social and governmental influences impact water access. "Knowledge of hydrology and water chemistry largely isn't what is keeping communities from meeting their goals," he argues. "Rather, it is how water is managed and the institutions governing water management."
Although his graduate school experience has presented challenges—specifically balancing work and life as well as tackling imposter syndrome—Tucker's time in New Mexico and at UNM has been fruitful and impactful. He has felt welcomed by the many rural communities he has visited across the state and has valued the opportunity to learn about their histories and values. He has enjoyed teaching GEOG 1160L (Home Planet Lab) for his program. Due to its nature as a core science class, teaching it has given him the chance to interact with students from all walks of the university, learn about their backgrounds, and appreciate the ways each student contributes to the classroom learning environment. He has also taken advantage of New Mexico's many outdoor delights, finding time to go skiing, mountain biking, hiking, and rock climbing when not involved in his studies and research.
With graduation approaching this May, Tucker is still deciding what his next step will be. However, he hopes he can find a job "where I can apply my research findings in a meaningful way."
NIKKI MAPHIS
Biomedical Sciences Graduate Program
Nikki Maphis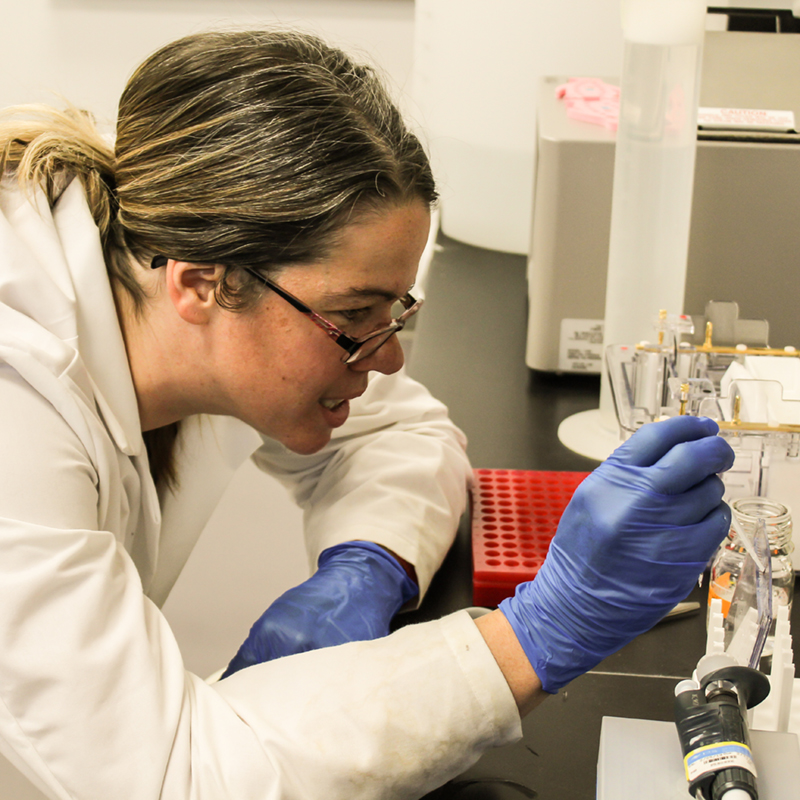 Nikki Maphis is on a mission to eradicate dementia. A doctoral candidate in the Biomedical Sciences Graduate Program specializing in Neurosciences and Professional Science and Technology Management, her work involves developing a vaccine to target a pathology—called pathological tau, or pTau—typically found in patients with Alzeimer's disease as well as other dementias. By using a vaccine approach to combat pTau, Nikki explains, "I am stimulating the body's immune system, specifically B cells, to mount a robust and targeted antibody response in order to target and degrade this pTau in the brain."
Nikki's fight against dementia is personal. "My grandmother was diagnosed with Alzheimer's disease and suffered from this devastating disorder for more than fifteen years," Nikki says. "It was heartbreaking watching her and family struggle with this disease. With Alzeheimer's, it's not just the person with the diagnosis who is affected, but those who have to take on the primary care-giving role." The financial cost is enormous too, Nikki explains, citing that "in 2019 alone, families spent nearly 290 billion dollars on care related to Alzheiemer's disease and related dementias, and a lot of this can be unpaid caregiving." To make matters worse, the number of people with Alzheimer's is expected to triple by 2050 as people live longer, making healthcare costs skyrocket to nearly one trillion dollars. Preventing this outcome is just one of the reasons why Nikki believes dementia research is so vital. She hopes that, with the right company partnership, her vaccine can enter clinical trials and yield positive results.
Nikki was no stranger to UNM when she applied for graduate study. She worked here for four years as a lab manager, and her mentor, Dr. Kiran Bhaskar, encouraged her to apply to her program. "It had always been a goal of mine," she says, "and after working here for several years and observing the Biomedical Sciences Graduate Program from the outside, I really seized the opportunity to get my doctorate in a field in which I have immense passion."
After graduating this December, Nikki hopes to find employment with a local biotech business or one of New Mexico's national laboratories. She loves living in New Mexico and would dearly like to stay here after finishing doctoral study.
When she's not in the lab, you can find Nikki hiking, rock climbing, bouldering, mountain biking, and camping with her dog and friends. She believes maintaining a healthy work/life balance is critical to academic success, and since the beginning of her time at UNM has made sure to set time aside for exercise, healthy eating, sleep, and time with friends. She also volunteers with the local chapter of the Society for Neurosciences by participating in their Brain Bee, a high school outreach event aimed at interesting students in neurosciences and STEM careers.
When asked how she would change the world if she could, Nikki answered that she would work to reduce income inequality in the United States. "Growing up in near poverty can literally change your DNA," she explains, and "childhood trauma as a result of poverty can be passed down in your DNA through these epigenetic changes (small micro-alterations in your DNA). This means if you grow up poor those changes in your DNA can be passed down to your children. We need to stop the cycle of poverty and put a larger value on education."
MONICA GONCALVES-GARCIA
Psychology
Monica Goncalves-Garcia
Monica Goncalves-Garcia is a doctoral student in psychology specializing in neuroscience who represented UNM Graduate Studies at 2020's UNM Day at the New Mexico State Legislature. Monica is a first-year Ph.D. student, but she's not new to UNM. An international student, she first attended UNM in 2014 as an undergraduate studying music. Now she's made an amazing leap to a whole new discipline for graduate study because she is "interested in understanding what is going on in the brain that causes an organism—a human or animal—to behave the way they do," she explains. "I am fascinated by brain plasticity, learning and memory processes, and intrigued by how prenatal alcohol exposure impacts those." Although the switch from music to neuroscience has been challenging, Monica has found it incredibly rewarding. She hopes her research regarding prenatal alcohol exposure, and related fetal alcohol spectrum disorders, can help shed light on these topics to the public and help encourage those who are pregnant to abstain from alcohol during pregnancy.
Monica's experience at UNM since her time as an undergraduate has been a positive one, even though it was her first time living abroad and she was nervous about the change. However, "all the support I had from day one at UNM made everything way easier than I could anticipate," she says. "The international department at UNM is fantastic in helping us deal with all the bureaucracies and also promoting many events to help us with the transition from our cultures to the American culture."
Monica's parents went above and beyond to make it possible for Monica and her sister to pursue university degrees. Monica is a believer in education, and she's blazing trails as the first person in her family to pursue a doctoral degree. "I really believe a better education can change the world in many powerful ways," Monica says. "If I am where I am today, it is because of the power of education." After completing her doctoral degree, she hopes to continue in academia professionally as a postdoc and beyond, continuing her own educational journey and helping others along theirs.