UNM Graduate Student awarded "Everyday Heroes"
May 1, 2019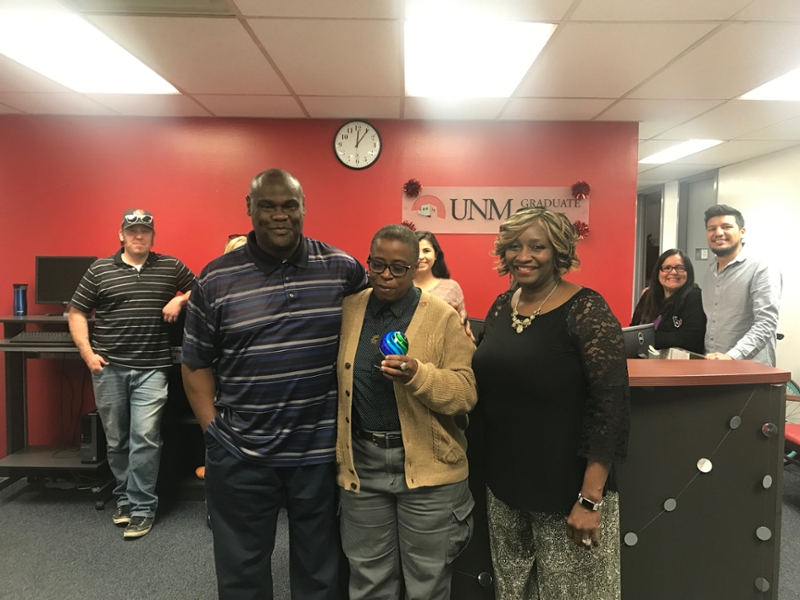 Recipient Glenda Lewis (center), flanked by OAAA Director, Scott Carruthers (left), and OAAA Lead Outreach Coordinator, Beverly Jordan.
The NM Office of African American Affairs (OAAA) recognizes "Everyday Heroes," individuals and organizations who have made significant contributions toward the improvement of life for all residents throughout the State of New Mexico, in general, and for African Americans, in particular.  On May 1st, the OAAA presented an award to our own Everyday Hero and Graduate Studies staffer, Glenda Lewis.  Lewis has been a beacon of light in the UNM community for many years.   Currently a PhD Candidate in Language, Literacy, and Sociocultural Studies (LLSS), Lewis currently works with New Mexico Project for Graduates of Color Peer Mentorship Program.  In additional to service as recent President of the UNM Graduate and Professional Student Association (GPSA), Glenda has also held a variety of UNM leadership positions to include vice president of the College of Education GPSA, and Communications co-chair for the LLSS Graduate Student Association.  Graduate Studies and PNMGC were pleased to celebrate the award with Glenda.