UNM Graduate Student Cristabelle de Souza Represents UNM at WAGS Conference
May 3, 2018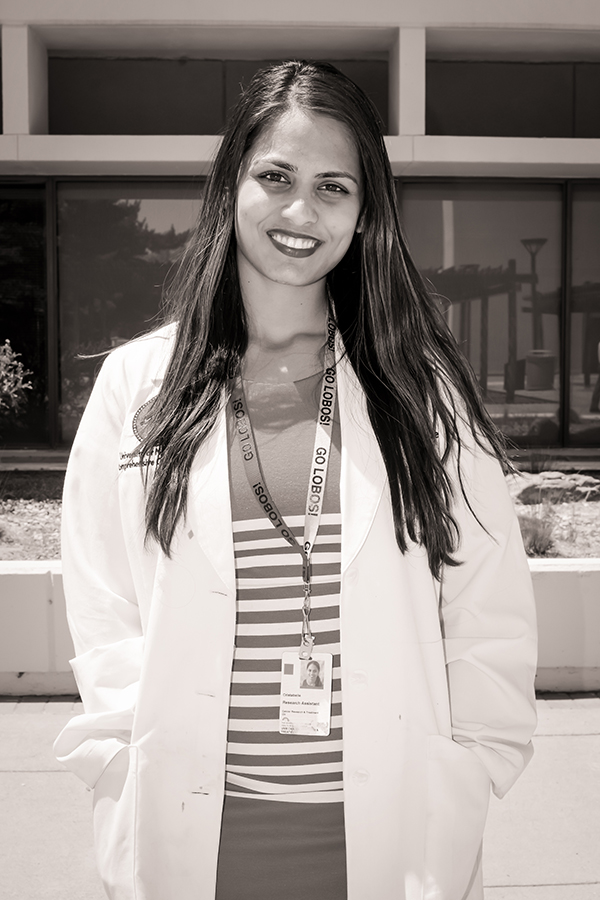 Cristabelle de Souza outside UNM's Fitz Hall, home of the Biomedical Sciences Graduate Program.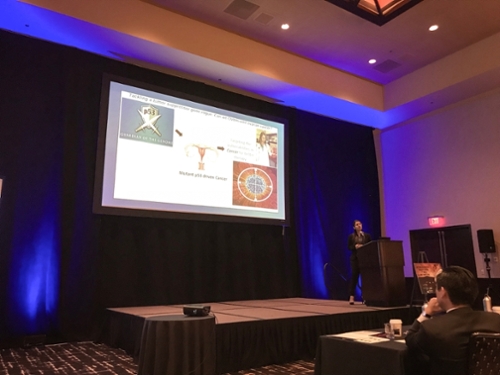 Cristabelle presenting at the Western Association of Graduate School's 2018 Three Minute Thesis competition in Las Vegas.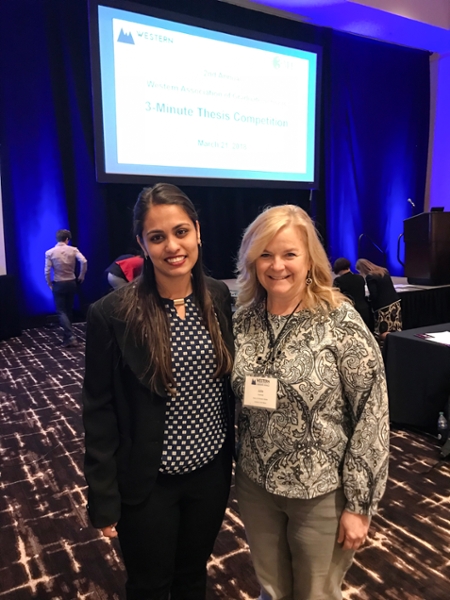 Cristabelle with UNM Graduate Studies Dean Julie Coonrod at the WAGS 3MT competition.
Cristabelle de Souza, a doctoral student in the UNM Biomedical Sciences Graduate Program, recently represented UNM at the Western Association of Graduate Schools (WAGS) Three Minute Thesis competition in Las Vegas, Nevada. She presented her research in a three-minute talk titled "Tackling a tumor suppressor gone rogue: can we OVARcome ovarian cancer?" Cristabelle was chosen to present at the WAGS 3MT after becoming a finalist in the Fall 2017 LoboBITES competition, part of the UNM Shared Knowledge Conference. 
We recently sat down with Cristabelle to learn more about her research. With a broad smile and great energy, Cristabelle described her graduate work examining aspects of ovarian cancer as building on other research that has focused on mutations in tumor suppressor genes. Her dissertation focuses on understanding the correlation between inherited variations at a specific codon (a sequence of three nucleotides that together form a unit of genetic code in DNA) and the acquired mutations in the tumor suppressor gene. This is a very specific and important project and one that gets at Cristabelle's long-time interest in figuring out what causes cancer. But how did she get on this project, and more generally, here to UNM in graduate school? Cristabelle said, "I was recruited from India as a Ph.D. student to the Kansas Medical Center and began my studies in the department of Cancer Biology. After a year into my program, my thesis advisor Dr. Jeremy Chien moved to the UNM's Comprehensive Cancer Center." Dr. Chien has been a great mentor and so she followed him to UNM. She adds, "He instills in me the desire to set high goals, I … have not looked back since."
As for one of the highlights of coming to graduate school at UNM Cristabelle said, "Being one of the winners of the LOBO bites competition and thereafter representing UNM at the WAGS conference in Nevada were especially a great boost to my morale." She has also received a number of grants and support for travel and has very supportive faculty and a strong bond among her fellow students. One challenge that she sees is in working closer with students and researchers across fields – like math, physics, biology, chemistry – which will benefit answering the big questions and problems of our time. When asked how she would like to change the world, Cristabelle joked, "I would grant every human being a chance to visit Albuquerque and experience great weather." But more seriously, she said, she would, "want to be part of the revolution in novel diagnostics and therapeutics that can alleviate human suffering and give people a fair chance to fight this devastating disease called cancer."
After completing her doctoral program, Cristabelle plans to work as a principal investigator working the the field of translational cancer research. She hopes she can be "a liaison to bridge the gap between bench science and clinical outcomes," helping establish a better bedside approach for precision medicine and innovative treatment.