UNM Graduate Studies welcomes new Associate Dean
November 30, 2018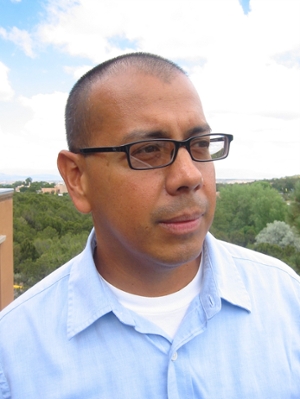 Graduate Studies new Associate Dean Dr. Jesse Alemán
Graduate Studies is pleased to announce the selection of Dr. Jesse Alemán as our next Associate Dean. The selection committee was impressed with Dr. Alemán's energy and passion for Graduate Studies at the University of New Mexico.
Born and raised in California's Central Valley, Dr. Alemán earned his BA and MA in English at CSU, Fresno, and took his PhD from the University of Kansas. He joined the UNM English Department in 1999, where he teaches nineteenth-century American, Chicano/a, and Southwestern literary and cultural studies. A professor with faculty affiliations in American Studies and Chicano/a Studies, he's offered a range of courses, including the Nineteenth-Century American gothic, Chicano/a Horror, Southwestern Literature and Film, and Nineteenth-Century American Literature and the West. He is the recipient of the College of Arts and Sciences' Award for Teaching Excellence; the American Indian Student Services' STARS Award; the Wertheim Award for Outstanding English Faculty member; and he's been named Outstanding Faculty Member by the English Graduate Student Association and UNM's Peer Mentoring for Graduate Students of Color. Most recently, he was selected as the 2016-2018 Presidential Teaching Fellow, the highest recognition for teaching excellence UNM bestows.
Currently a Research Fellow with the Latino Research Initiative at the University of Texas at Austin, Dr. Alemán is completing Latino/a Civil Wars: Writings from the Front of Nineteenth-Century U.S. Latinidad to capstone his significant record of published work on nineteenth-century U.S. Latino/a literary and cultural histories. Alongside his body of scholarship, Dr. Alemán brings to the post a demonstrable history of distinguished commitment to graduate studies, from innovative curriculum and program building to steady advising and award-winning pedagogies.
"Graduate Studies looks forward to working with Dr. Alemán on new initiatives that will strengthen our graduate programs across the campus," notes Dean Julie Coonrod.