2022 Spotlights
KOREY TILLMAN
Sociology
Korey Tillman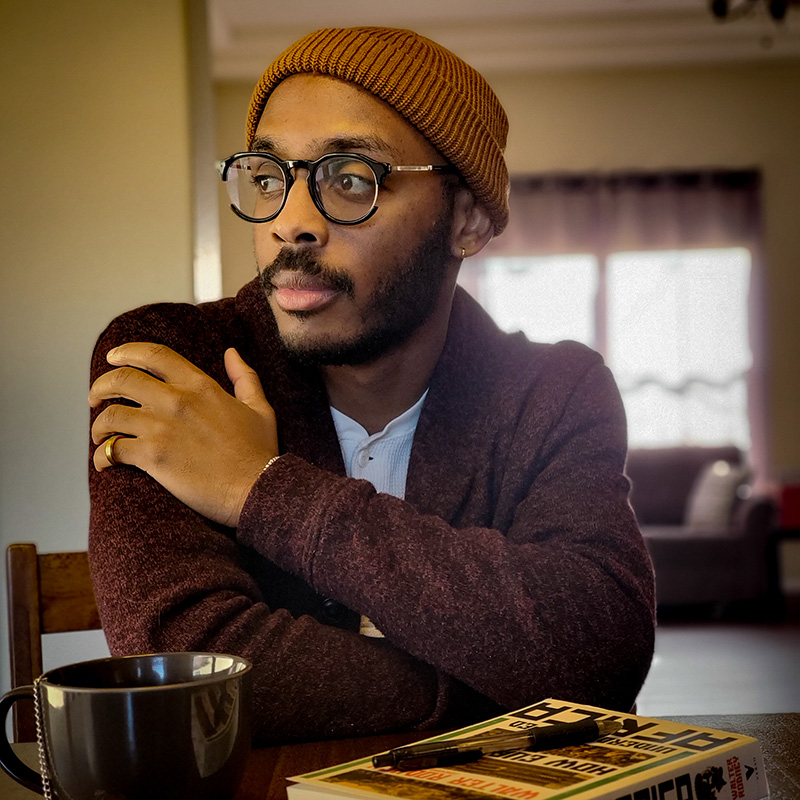 In 2016, Korey Tillman, a doctoral candidate in Sociology, sat in a courtroom and watched the trail of a Black man he knew and loved. Raised in a community which had been devastated by mass incarceration and hyper-policing, Korey knew the trial was not going to end well. "Intuitively the community could tell that he was losing even though he had one of the best lawyers in the area," Korey relates. "While the prosecution argued, I saw his defense attorney use her tablet to check Facebook and play video games. The scene was dramaturgical. As she swiped and tapped, his humanity disappeared. He became a supporting character in a play to decide his freedom. He lost. But in that moment, I gained the passion to study how Black individuals are policed within, and beyond, the criminal legal system."
Korey has channeled the passion ignited in that courtroom towards his graduate study. His research, which sits at the nexus of race, policing, and empire, informs his dissertation as it traces a human-Black racial hierarchy that informs modernity and examines how in moments when Blackness is policed, this racial hierarchy is reified and challenged. As an abolitionist, the goal of his work is to build upon the legacies of the Black feminist and radical traditions to assert Black humanity and move towards a world where African diasporic communities receive care, not criminalization. "Individuals live and die through the ways in which Blackness is policed," he notes. "Thus, my research is important because it is a project in sustaining life. In studying how a human-Black racial hierarchy is maintained by policing, and challenged through resistance, I hope to provide empirically grounded theoretical work that assists in Black liberation struggles."
Korey transferred to the UNM Sociology department from the University of Las Vegas, Nevada. There, he was engaged in graduate study with advisor Ranita Ray. When she relocated to UNM, Korey was able to make the transition with her. "Her rigor and care have edified my person," Korey says, "and I was more than happy to move to a great department and complete my studies under her tutelage." Korey has enjoyed his time at UNM, thanking the Department of Sociology for receiving him with open arms and supporting his work. He particularly appreciates professors Nancy López and Maricarmen Hernández, whom he credits for expanding his worldview through their teaching. He also notes his "deepest gratitude to Ranita Ray, Georgiann Davis, Susila Gurusami, and Vilna Bashi for serving on my dissertation committee. Their guidance not only makes me a better scholar, but a better human-being. Any of my successes are shared among those who continue to love, support, and pour into me." He has also found community and warmth through African American Student Services as well as the McNair program, where he works as a project assistant.
Korey recently received a Fulbright Research Award, which will fund dissertation research in South Africa for the 2022-2023 school year. After graduation in Spring 2023 he hopes to secure a tenure-track position or a postdoctoral appointment at an R1 university, where he will continue his work of writing, educating, and organizing to benefit marginalized communities and abolish prisons and the police, creating community-led forms of accountability, safety, and healing.
When not researching and writing, Korey enjoys movies, playing the guitar and piano, bowling, and Brazilian Jiu-Jitsu. But there may be one more activity to add to his impressive resume yet. "I secretly want to do stand-up comedy," he relates.
Graduate Studies congratulates Korey on his Fulbright Award and other achievements, and wishes him success for his appointment in South Africa and beyond.
ANTONIA ANDROSKI
Biology
Antonia Androski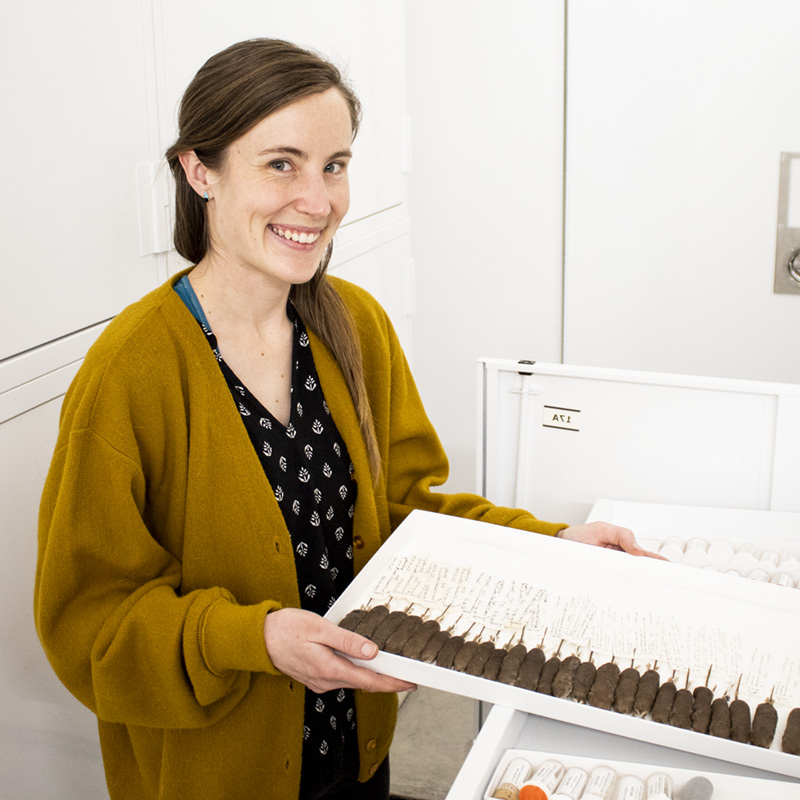 Meet Antonia Androski, a doctoral student in biology with a valuable interest in some furry little friends. Her work within natural history collections to study the evolutionary history of small mammals in the western United States—particularly the montane shrew—could help the scientific community better understand climate change in both the past and future.
But why shrews?
"Montane shrews in particular are very interesting to me because they vary little in size and appearance across their range, which spans from Mexico to Alaska, but fall into three distinct genetic groups," she explains. "The genetic differences among these groups can be used to understand how past climate shifts affected the evolutionary path of this species, and their capacity to respond to climate change happening today." Shrews are particularly useful for this field of study due to their high metabolic rate—"they can't go longer than a few hours without devouring an earthworm or beetle," Antonia notes—which means they may mutate at a much higher rate than other species. And if they evolve more quickly than other species in new environments, their genome works as an excellent proxy for analyzing the effects of environmental change on animal species. By studying these genome patterns, biologists can better identify species vulnerable to extinction from climate change and/or other habitat disturbances, such as forest fires. They can also use this data to identify developing species as well. "I hope this information helps guide public lands management," she says, "as both declining and divergent populations will be important to monitor in the future."
As part of her field research, Antonia drove last summer from New Mexico to Southeast Alaska to collect shrews from an area along the coast near Juneau. "We were working in Alaska's incredible coastal rainforest, foraging for blueberries and watching out for bears among huge ferns and tall, moss-covered hemlock and spruce trees," she reminisces. She cites this as one of her favorite parts of graduate study at UNM so far, although a close second is serving as a teaching assistant in an undergraduate mammalogy course, which involves field work with mammals. "For many of these undergraduates, it's their first camping experience," she says, "and for most it's their first time seeing native mammals like kangaroo rats up close."
Graduate study, of course, has not been without its challenges. "I came into this with almost no experience in genetics, so learning my way around the lab and learning how to process large genomic data sets has been challenging," she notes. However, she continues, "I am very lucky to have peers who are willing to help out and some computationally inclined evolutionary biologists in the department."
Outside of her research, Antonia enjoys skiing, mountain biking, hiking, and running, usually with her partner and their dog, when possible. She has also taken a great interest in public lands and wildlife conservation policy. If given the power, she would love to help create more nature preserves in urban and suburban areas. "I grew up in Kansas, were less than two percent of land is publicly owned and there are few examples of healthy native habitats," she says. "I feel very lucky to have grown up near a small state park with a family who enjoys nature, and I think that everyone deserves access to public lands that are expansive and healthy."