Student Spotlights 2015
X
Carol Hinton, a Ph.D. student in Organization, Information and Learning Sciences (OILS), is an active community leader with volunteer and work experience in the fields of healthcare and education. At the age of 52, she decided to fulfill her lifelong goal of obtaining a doctoral degree. She was drawn to UNM's OILS program for its diverse fields of study, emphasis on providing quality education, and training in technical skills centered on instructional systems. With a background in team-leading and being a team member in the workplace and on volunteer boards, Carol felt the OILS program would provide the best opportunities for learning and personal growth, and enable her to better serve in the team environment that is prevalent today.
Carol's background gives her practical experience and insights that are aligned with her academic and research interests. For her dissertation research, she plans to conduct a study of nonprofit boards and the relationship between shared leadership and performance, identifying the common characteristics and strengths related to shared leadership that board members possess and exhibit. Carol's studies in the OILS doctoral program will prepare her to be a consultant with two specializations: first, helping organizations with planning and implementing new programs or processes, and second, aiding team development in nonprofit boards. The skills and knowledge acquired in her studies along with her planned research will place her in a unique position to help nonprofits derive the benefits from cultivating and sustaining shared leadership.
In addition to the academic rigor and internships provided by the OILS program, Carol has been particularly grateful for the opportunity to be of service through her role as treasurer of the OILS Graduate and Professional Student Association (GPSA). Promoting and supporting graduate students through the use of student fees for continuing education, research, and membership in professional organizations has been rewarding. She encourages all graduate students to look for ways to get involved and be active in their own GPSAs and other programs. Giving back is good practice at any stage in life.
X
Gandhi Yetish, a PhD candidate in Evolutionary Anthropology, recently first-authored a paper for Current Biology, entitled "Natural sleep and its seasonal variations in three pre-industrial societies". Working with a team of researchers, including his graduate advisor Dr. Hillard Kaplan of UNM and sleep expert Dr. Jerome Siegel of UCLA, Gandhi studies the problem of optimally allocating time between sleep and waking activities in an evolutionary and ecological context. Their recent paper was the first to objectively measure and compare sleep patterns in small-scale subsistence populations (Tsimane hunter-horticulturalists of Bolivia, San hunter-gatherers of Namibia, and Hadza hunter-gatherers of Tanzania). Sleep duration in all three groups averaged to about 6.4 hours per night, quite similar to the average measured in the United States. This exciting and perhaps surprising new finding has attracted attention from several popular media outlets, such as PBS, NPR, and the New York Times, who have all run stories summarizing this paper. Gandhi will be defending his dissertation in the spring semester of 2016, and then continuing his work on sleep with Dr. Siegel as a post-doctoral research fellow thereafter.
X
Demetrius Gloster is an MBA candidate at UNM Anderson School of Management and a Project Assistant for UNM Project for New Mexico Graduates of Color (PNMGC). In 2013, Demetrius participated in the Washington Campus Residency Program: Public Policy Education for Business Leaders. Later that year he earned the UNM Center for Regional Studies Fellowship. He also traveled to Beijing, Chengdu, and Xian, China in a faculty led study abroad course. In January 2015, he became a pioneer by taking the unquestionable opportunity to become the first MBA student from UNM to participate in a semester long student exchange at Hong Kong Polytechnic University. After graduation, Demetrius plans to move to the Northwest to be with his son.
X
Rijasoa Andriamanana, a wife, a mother, a foreign language teacher, an Africanist scholar, is a fourth year doctoral student in the department of Language, Literacy, and Sociocultural Studies with a focus on TESOL / Bilingual Education. She is among the recipients of the College of Education's prestigious William B. and Roberta V. Castetter fellowship that supports doctoral students of the highest caliber who have displayed exceptional academic qualifications. Her ongoing research activities with teachers in Madagascar, her home country, look to implement a Culturally Relevant Pedagogy in foreign language teaching, and are supported by the Graduate Student Excellence Award and the Rogers Travel award.
Rijasoa plans to build her dissertation study upon her past and future scholarly trips and collaboration with Malagasy teachers. Her ultimate goal is to provide professional development for pre- and in-service teachers in Madagascar by using social justice-oriented approaches to improve teaching practices and maximize students' learning outcomes. In doing so, she hopes to foster an environment for her people to learn foreign languages without oppression.
X
Juliette Tayou Guemmegne is a Ph.D. student specializing in Health Economics and Environmental Economics in the Department of Economics at the University of New Mexico (UNM). She is also a Doctoral Fellow at the Robert Wood Johnson Center for Health Policy at UNM. She graduated from the University of Yaounde I, Cameroon with Master's Degrees in Mathematics and Applied Statistics. Juliette's general research interests involve identifying strategies that might be effective in reducing disparities in the healthcare workforce, access to care, and health outcomes in the United States. Her research has yielded several articles published in highly ranked peer review journals and several other working projects.
Juliette also had the opportunity to be the co-principal investigator on a large-scale survey (2014), and one of the trainers at the 2015 AEA SUMMER Training and Minority Fellowship (2015). Juliette has received various recognition for her outstanding research, including the African American Student Services Scholarship (2014), The UNM Graduate Scholarship Funds (2014, 2015), the Gerald Boyle Memorial Graduate Student Awards in Economics (2014), The El Centro De LA Raza Scholarship (2014), The Graduate Dean's Dissertation Fellowship at the University of New Mexico (2015), and the UNM Center for Health policy Fellowship (2015).
X
Satkar Thapa is a Graduate Assistant and an MBA candidate at UNM Anderson School of Management. Born and raised in Nepal, Satkar joined UNM in Spring of 2014. He started working as a Student Ambassador at University Communication and Marketing Department of UNM in April 2014. During his time at UNM he has been awarded with several scholarships. Satkar was awarded the international amigo scholarship when he joined the MBA program at UNM. He also got awarded the GPSA summer scholarship in summer 2015. Recently, he got awarded with Anderson Hall of fame scholarship by the Anderson School of Management. Furthermore, he is quite clear about his career goals and aspires to be a financial analyst. He believes that the best way to achieve that goal is to get an MBA with focus in finance. He is also preparing for the CFA level I test.
X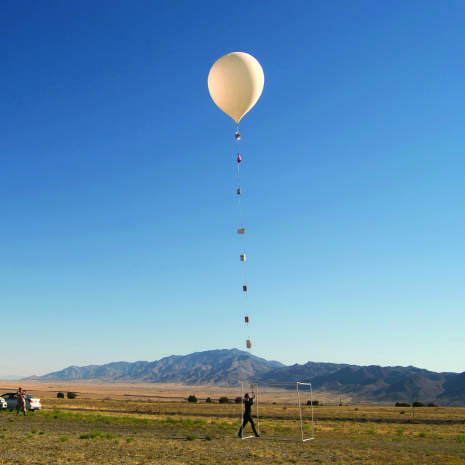 Elizabeth Shores is an interdisciplinary artist working at the intersection of art, science, and environmental law. Her research-based creative practice involves collaborating with and interviewing scientists, artists, and lawyers to investigate connections between objectivity, corporate personhood, and the production of landscape. Her recent work uses electron beam physical vapor deposition to create Nano sculptures using data taken from video cameras and radio transmitters she launched on a weather balloon to seventy-eight thousand feet above sea level. 

Her work has been exhibited at SITE Santa Fe, SOMA (DF), Torrance Art Museum, Tamarind Institute, Peters Projects Santa Fe, The Museum of Modern Art (NYC) and at spaces at such institutions as Columbia College Chicago, University of Iowa, University of Texas El Paso, and University of California San Diego. She has published and presented her research at Arizona State University, New York University, School of Visual Arts, Zayed University, International Balloon Museum, and the New Mexico State Capitol. While pursuing her MFA at UNM, she has been the recipient of the Howard L. Franks Memorial Studio Arts Fellowship, Student Research Grant, Doctoral Conference Presentation Grant, Deans Travel Grant, and the Clyde A. & Elizabeth R. Hill Endowment Scholarship. More information available at www.elizabethshores.com
X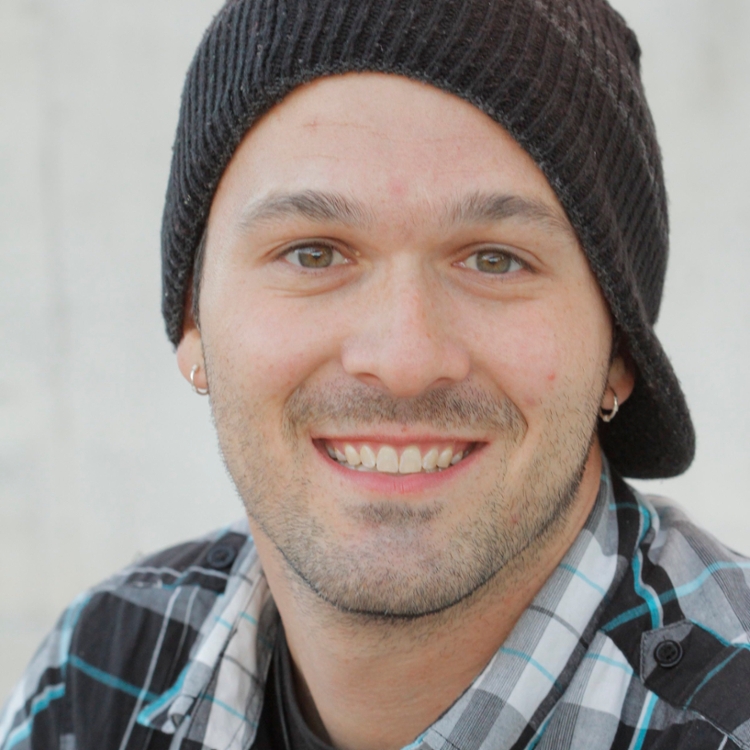 Kevin Hathaway is a third year MFA Dramatic Writing student with a minor in American Studies. Originally from Minneapolis, Hathaway received BA's in Film Studies and Creative Writing in 2011 from Saint Cloud State University in Saint Cloud, Minnesota. Already fascinated by the American West, he enrolled at UNM by recommendation of playwright Trista Baldwin. His play Ashes Crossing Yellow Lines, a familial story of redemption and inspired in part by his own experiences with the River Road Fellowship cult, was performed this April as part of the Linnell Festival of New Plays at UNM. In addition to being a playwright, he also hopes to become a fulltime screenwriter and television writer as well as teach theatre and film.
X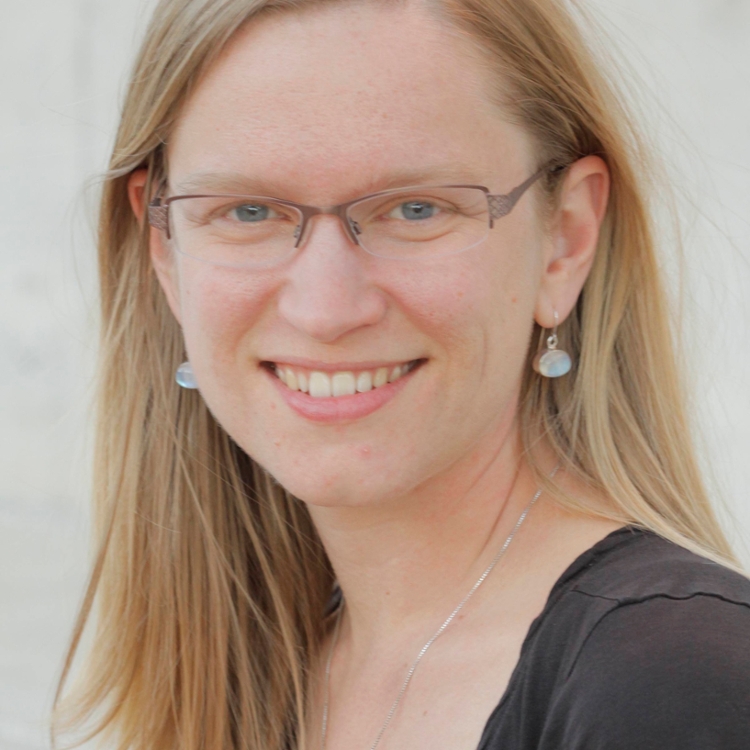 Irene Loy is a third year MFA student in the Dramatic Writing program at UNM. Hailing originally from Indiana, she is happy to call New Mexico her home. Her play 2am Lovely, an unconventional story of artistic self-discovery inspired by the biography of modern British poet and artist Mina Loy, was performed this April as part of the Linnell Festival of New Plays at UNM. Driven by the need to tell compelling and underrepresented stories, she enrolled at UNM after learning about the MFA program in Dramatic Writing through an internship with the Tricklock Company. After graduation, she hopes to integrate her skills in the fields of healthcare, education, non-profit, and theatre and will remain committed to writing highly local theatre here in New Mexico. At the same time, she aims to stay connected to both national and international movements in theatre-making and thought by continuing to submit plays, attend conferences and trainings, and combine research and practice.
X
Jane Crayton is a Graduate Assistant for the Art, Research, Technology and Science Laboratory (ARTSLab) working as an immersive educational researcher and technology developer on a Department of Defense (DOD) grant in collaboration with the Institute of American Indian Arts (IAIA). She recently completed a case study for her thesis on how teaching immersive media design engages students in STEM and art learning. She pioneered live video mixing (VJ) performances for the multi-projection fulldome as a part of the innovation team on the DOD grant. In 2012, Jane was awarded a graduate scholar award by Technology, Knowledge and Society for her paper, Teaching Creative Critical Action beyond Economy in the Art of Techno-ecology. Jane believes that the ability to innovate is the most prized human dexterity, and teaching STEM subjects through project-based art inquiry stimulates empathy, creativity and critical thinking, building a pathway to innovative behavior supporting 21st century citizenry.
X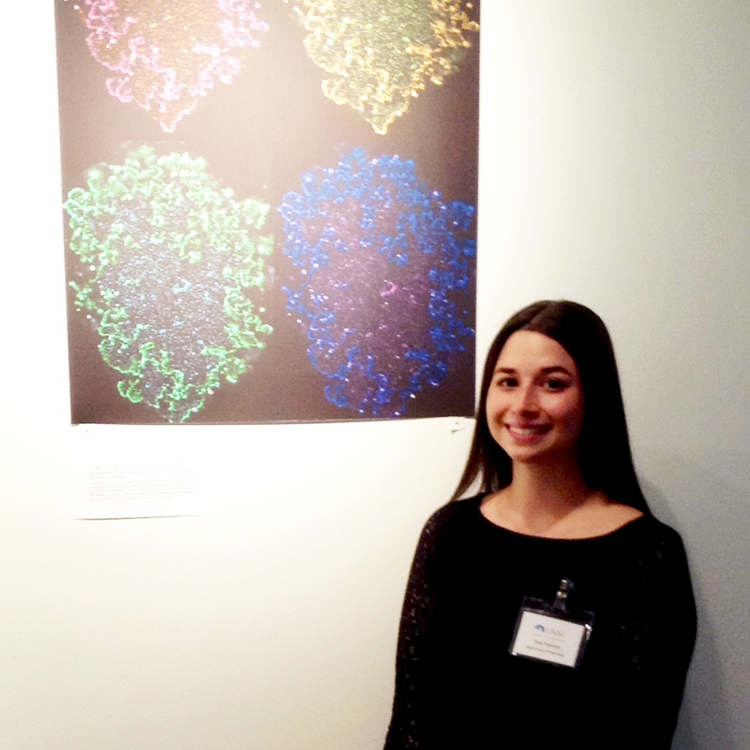 Christina Termini is a PhD candidate in Biomedical Sciences and a Master of Music student with a concentration in flute. She was recently awarded the highly competitive NIH F31 pre-doctoral fellowship from the National Heart, Lung, and Blood institution for her dissertation project, which focuses on targeting a surface receptor for improving hematopoietic stem cell adhesion. During her studies at UNM, Christina received the Evans Charitable Trust Scholarship for Biomedical Research, the UNM OGS Graduate Student Success Scholarship, the UNM STMC Graduate Fellowship in Systems and Computational Biology, and various travel awards to present her dissertation research at national meetings. Christina also won the 2012 UNM Concerto Competition and was a featured soloist with the UNM Symphony Orchestra. She is currently the president of the UNM Health Sciences Center Orchestra, which is an Arts-In-Medicine initiative focused on bringing music to health professionals and patients.